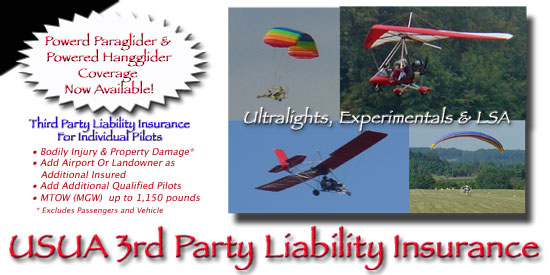 USUA is pleased to make 3rd Party Liability Insurance available to USUA members who fly Ultralight, Experimental and Light Sport Aircraft. This USUA program is administered by First Flight Insurance Group, Inc. which is located in Kitty Hawk, North Carolina and who has been a leading provider of commercial recreational sport insurance for over a decade.
Since 1996, First Flight has made its mark by insuring operations that focus on the vacation and leisure community. While working hand-in-hand with many recreational sports associations, and consulting with legal experts in that same discipline, First Flight Insurance Group, Inc. has developed programs that serve the insurance needs of safety conscious recreational businesses. Presently, First Flight insures the United States Hang Gliding & Paragliding Association (USHPA), the National Association of Underwater Instructors (NAUI), Professional Association of Parasail Operators (PAPO) and provides coverage for members of the Professional Air Sports Association (PASA), and the United States Ultralight Association (USUA).
First Flight also offers a more extensive coverage package for commercial flight school operations, and has done so for many years. The program includes commercial general liability for the school's premises plus 3rd party and participant liability. If you are a CFI, USUA encourages you to look into the commercial program.
Please visit the First Flight Insurance Group website for coverage information, premiums, and application. To view this information, select "Airsports" from the "Applications" menu on the First Flight Insurance web page.